A mostly incomplete list of personal recommendations for a trip to Austin
I've verbally said this blog to lots of friends over the past few years going to Austin for a trip, and decided it was time I write it down. I'm going to call this mostly incomplete because there's no way I could cover all the best parts of Austin, so instead I'm just going to focus on my favorite answers to FAQ questions.
Food stuff
Food is the best part of Austin (or Texas for that matter).
If you like BBQ, La Barbecue and Salt Lick are great places. Franklin's is widely considered the best, but you face a long line (think "new iphone release" kind of lines). La Barbecue is a food truck just over on east side that only has a line about 30min long (yes, a food truck with a 30min line). It comes from the same family tree of BBQ teachings as Franklin's does, and frankly I think it's as good or better. Salt Lick is a more traditional style BBQ house down in Wimberly. It's a bit of a drive and not something I'd burden an Uber driver with, so make sure you find a friend with a car that wants to go or rent one. You likely want to make a reservation if you go on a weekend, but they have a fantastic all-you-can-eat buffet for like $20. You can also get it at the airport when you inevitably decide you need one more round of BBQ before you leave.
Tex Mex is a Texas treasure. Out here in California they pride themselves on "authentic Mexican" restaurants… which is fine… but I really like tex mex. First and foremost, regardless of what restaurant you go to, GET QUESO WITH YOUR CHIPS. If that sounds weird, it's just cheese dipping for the chips, but it's amazing and I can't understand why California hasn't borrowed this. As for restaurants, there's tons of good ones. My favorite is probably Chuy's, whose original location is on Barton Springs Rd. just south of the river. Can have a bit of a wait during busy times, but good food and good drinks. Another popular one is Juan in a Million on east side that specializes in breakfast.
Quick special mention: try Big Red (the drink) while you're here. It's pretty hit or miss for people, but I really like it for some reason and can't find it anywhere in California other than, you guessed it, a Texas-style BBQ place. It's like strawberry-cream-soda, I think.
There's a wealth of good local places too. Food trucks on South Congress ("SOCO") are amazing and renowned. Torchy's, while not locally owned, seems to have a special place in Austinites' hearts with their breakfast tacos and generally good everything. My favorite local place though is P. Terry's. They have a few locations, including a burger-stand-only stop on Barton Springs Rd. The burgers are fucking great, the menu's only a few items long, and all in all a great atmosphere. The owner has a great backstory in that he basically says if you pay your workers a good, fair living wage then the quality of your food will reflect that. It does, and hey he's been wildly successful from it too. All is not lost.
Some other random suggestions: Kerby Lane Cafe (breakfast, drinks, 24hrs, general goodery, there's a few locations), Tap 24 Sports Bar in West Campus (sports, soccer fans favorite, used to be a more popular bar called Cuatro's). Breakfast tacos are a thing in Austin. It's like brunch culture, but better.
Lastly, we need to talk about dessert. Texas is home to the best goddamn ice cream on the planet and it's called Blue Bell. They've got a bunch of flavors and you can find them at most local stores. Ben and Jerry's is the off-brand alternative in Texas. They were founded in Brenham, TX (between Houston and Austin, near another town we won't talk about) in 1907 and remain there today.
Outdoorsy stuff
I can't overstate this so I'll understate it: Austin has great outdoorsy stuff to do.
First — use sunscreen.
Rest:
Barton Springs is an Austin treasure. It's a natural spring that feeds into town lake, the water bubbles up from an aquifer that runs underneath the city. The water is very cold (68 degrees), which is a wonderful compliment to the hot summer weather. There's a greenbelt trail next to it you can hike too. If you like running, you can make a point to go run on the trail in the morning and then jump in the water afterward to cool off. Just nextdoor, the spring feeds into the stream that goes up to the river. The area where this connects though, just on the other side of the fence, is where a lot of dog owners like to bring their dogs. This is often affectionately referred to as Barking Springs.
Mount Bonnell is a neat hike on the west side of Austin that overlooks the river. It's the tallest point in Austin, and I know a non-singular number of friends that proposed to their current spouse there.
BATS. Austin is home to the largest urban bat colony in North America. They live primarily under the Congress Avenue Bridge and fly out around dusk. People gather on the bridge and the south-east lawn to watch them come out. The core population is around 750,000, but the magic happens in late summer (July-August). Most of the ones under the bridge are females giving birth, and once their pups are big enough to fly (late summer), there's upwards of 1.5 million bats under the bridge. Dusk in Austin during the summer is a wonderful time of day too, as if the air has a certain crispness to it on a burnt landscape. Going to watch the sunset and bats in this atmosphere is uniquely Austin. They also keep Austin insects in check, eating some absurd 20–30k pounds of insects each night.
Zilker park is a huge park just south of the river. It's perfect for just about everything and often hosts music festivals and events. People go here to fly kites, play sports, lounge, work out, you name it.
Paddle boarding and canoeing. You'll see people on the river doing this. I've admittedly never done it but it looks a ton of fun and you can do rentals at a few places around there.
360 bridge: We have a round called 360, and yes it is different from the one called Loop 1. There's a famous spot overlooking the bridge that this road has over the river where you can walk up and get a great view of the river and bridge. People often go up there to hang out/read/lounge too.
Hamilton Pool: If you're feeling adventurous and have a car, you can take the drive out to Hamilton Pool. This makes the rounds on /r/earthporn on Reddit periodically, and gives you a good sense for how much the limestone landscapes of south central Texas are shaped by the various rivers and aquifers that run through it. I can't do justice to it so here's a picture instead: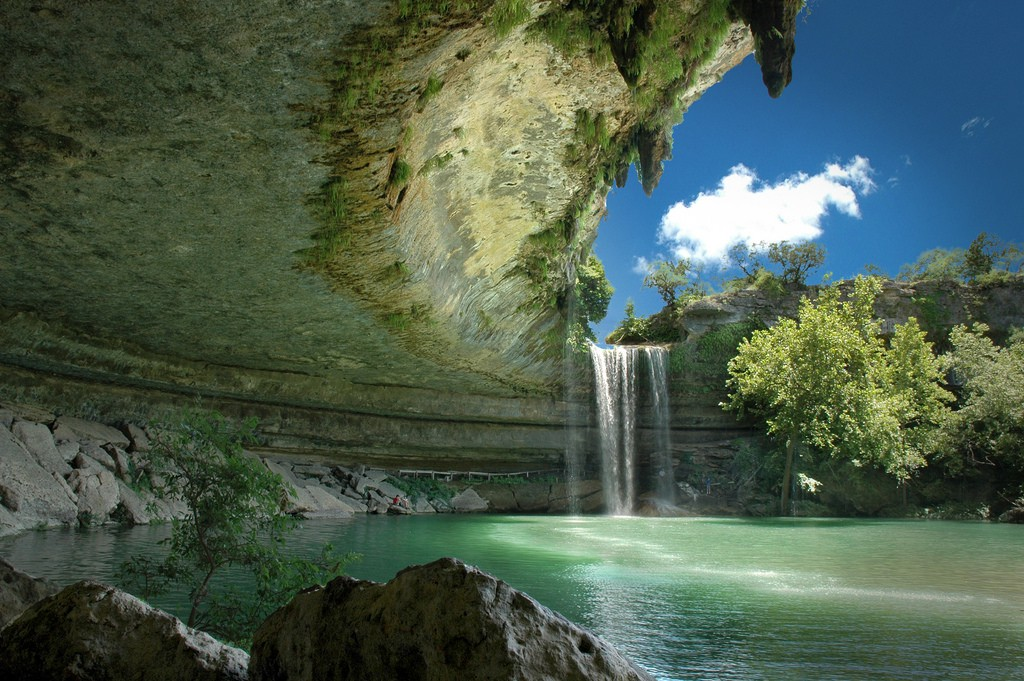 Work stuff
In Austin for work and want a place to get some work done?
Google Fiber Space downtown is great. You can go sit inside and use their wifi. Close (read: walking distance) to tons of restaurants, coffee places, etc too. Usually pretty quiet.
Bennu Coffee is where I spent many long nights in college working on projects and other homework. Open 24hours, you feel like the place was a study spot that they decided to put a coffee stand in. It's there for people to get work done and they don't try to pretend otherwise. Only downside is seating can be hard to find if you have a group, and music can get a bit loud depending on the barista.
Cafe Medici is a cozy chain of local coffee shops in Austin. My favorite location is a two story coffee shop right on the Drag (the stretch of Guadeloupe between MLK and ~26th-ish that divides campus from west campus, tons of shops and little restaurants). Medici isn't as loud as Bennu and not 24 hours, but they're pretty great and definitely closer to more things.
Honorable mention: Spiderhouse Cafe. If you ask anyone if this place is an ostensibly Austin place, the answer is definitely yes. If you ask them what kind of place it is, the answers get murkier. They have coffee, drinks, a bar, outdoor seating, tables, some food, comedy nights, live music, people working, people avoiding working, people there to work and subsequently avoiding work, and an eclectic design scheme.
Drinks stuff
Chances are you're in Austin with colleagues or friends and you'll want to go out some. Austin has a healthy night life and a few different areas that offer that.
One quick side note: Texas is stupid and there are no liquor sales on Sundays. Because God, or something. ¯\_(ツ)_/¯
To get the obvious out of the way: 6th Street. There's actually two ends to this, east 6th street (AKA "dirty 6th" AKA the one you've probably heard of) and "west". East is definitely where you go if you want to hit the club, loud bars, etc. My favorites here are Shakespeare's and Maggie Mae's. Kind of outgrow it quickly, but it's a fun time if you go with the right group. I tend to be that boring friend that likes to hang out and talk over drinks. West 6th is the newer area people tend to like, but people seem to prefer it with a touch of high browed pretentiousness that I've been turned off to checking it out. One thing to know before going to 6th: day of the week matters depending on your age. College students are out in force on Thursdays, and the age group gets progressively older Friday and Saturday. I don't know anyone that's gone out on a regular* Saturday and particularly enjoyed it. Another thing to keep in mind is other events going on, particularly athletic events. Texas Relays weekend is a big weekend for track and field with high school, collegiates, and pro's all competing. For the T&F fan, it's great. For 6th street, it's awful. You have a bunch of under-21's roaming 6th trying to get the 6th street experience but can't actually get in anywhere, meanwhile none of the local 21+'s actually want to go because of how many people there are on the street, resulting in this awkward "bars are empty but the street's full" effect.
*Exceptions are holidays and events. Halloween weekend on 6th is something to behold.
Which leads me to my favorite spot — Rainey Street in the southeast part of downtown. Rainey started off as a residential homes area, then someone turned a home into a bar with a yard and that took off. Most of the bars here are just small homes emptied out with a bar in them, and a lot have spacious yards with music and tables where you can just relax and have a drink with friends.
What to drink: Shiner is a Texas classic, made in Shiner, TX. Shiner Bock is the traditional one you might have seen, but they also do seasonal variants. If you're ever there during the winter holidays, Shiner Cheer is a roasted pecan variant that sells like hotcakes and is one of the top 2–3 beers I've ever had. Live Oak is another local favorite and actually locally brewed. Bavarian style Hefeweizen with staggering reviews. Another good mention is (512) Brewing Co, another local brewery.
Music stuff
Yep Austin's got a music scene. I'd be amiss if I didn't mention it, though you'd likely target specific events.
Regular music: there's something like 300 live music venues in Austin. My favorites have been Zilker, The Backyard, and The Union patio on campus. There's always stuff going on, just search "music in Austin this week" and you'll get a wealth of results.
ACL (Austin City Limits): This is a Coachella-style music festival that's Fri-Sun with two (duplicate) weekends. I usually only really like one day of this and just pick a day with the most shows I like. Lately it's become more focused around hip hop, EDM, and rap. EDM is good in the right setting, but that setting is usually limited to being a headliner (like Deadmau5 was a couple years ago). The others — well, I don't think there's many that can pull it off in that setting.
SXSW (South by Southwest): This is the biggest music festival by far and also the one that's shaped largely by what you put into it. You have to plan well in advance, it's not cheap, and you really have to have a group to make the most of it. The music portion has tons of shows but a good chunk of them will be hard to attend without a wristband. The film and tech portions of the festival are gaining a bit though. Another thing to keep in mind is that the music portion is largely the same week as students' spring break (which was great for students). The vibe you will get here during this festival is not Austin, it's SXSW and everything that the people and businesses attending project onto the city. You may like it, you may not, but it's not the same.
FFFF (Fun Fun Fun Fest): This is an up and coming music festival that takes place later in the year (November-ish) with a usually solid lineup. Maybe not one worth traveling for alone though.
Sites stuff
There's a good degree of interesting things to see in Austin. In no particular order: The University of Texas campus (my alma mater), the state Capitol building and its grounds (which are open to the public), the Bob Bullock TX State History Museum (which also has a full IMAX theater), Congress Avenue (historic old street that runs from the capitol building down to the river and across).
Airbnb stuff
This is a short section but one I get asked a lot. I tend to stay at the same Airbnb every time — "Stay Work Play". Sean and Lindsey have always been super nice and friendly, and go out of their way to make sure guests are comfortable and have access/recommendations for all the things to do in Austin. It's also a pretty good price!
---
This was originally posted on my Medium account, but I've since moved to this personal blog.